MoviKarma - Lights, Camera, Inclusion: Amplifying Underrepresented Voices

Progressive Multiplier
Movikarma is a 501c3 nonprofit in Los Angeles that empowers underrepresented filmmakers and fosters inclusion, equity, representation, and social impact in Hollywood. They had long recognized an opportunity to take their efforts to the next level by building their social impact storytelling — they just needed the resources to support their ideas.
With a grant from Progressive Multiplier, Movikarma first looked to scale their monthly film festival, A Show For A Change, which recognizes underrepresented filmmakers and social impact storytellers harnessing the power of story for social change. While they only experienced minor gains in growth, the grant opened up Movikarma's staff time to support their filmmakers and evaluate the films, deepening relationships in the industry.
From their work to grow the film festival, Movikarma got the idea to launch the Rewriting Hollywood Summit, an interactive, virtual event held in April 2023. The summit featured panel discussions with Oscar-nominated filmmakers, 2023 Oscar nominees, and working industry professionals; social impact film screenings; and a hugely successful live pitch competition.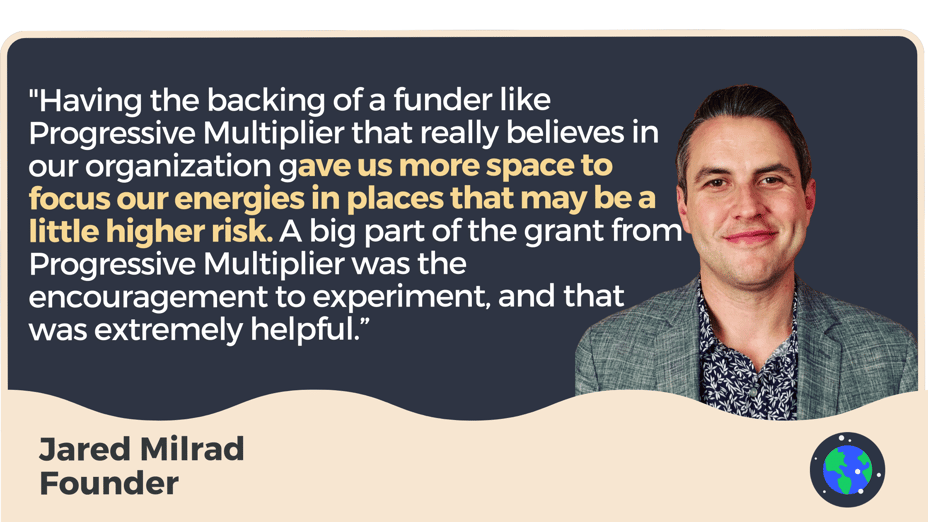 Creating and hosting the summit meant investment in logistics such as ticket packages, passes, and memberships and research to identify platforms to promote and present the event.
Digital ads, social media, email, and mentions on Movikarma's award-winning podcast, Rewriting Hollywood, drove attendance. While the event was a success, Movikarma hopes to make it even larger in the coming years using the learnings from 2023. One of the summit's most significant "wins" was an opportunity to work on a new Native-American-focused documentary series — a victory for both the mission and revenue gains.
During year one, the total revenue from Movikarma's project was $52,000. They are expecting 20-30% growth year-over-year.
Movikarma empowers underrepresented filmmakers and partners with leading organizations to tell stories that matter. Stories can have an enduring social impact when told by storytellers who know them best.