Riverkeeper: Advertising Investment Aids Acquisition

Progressive Multiplier
Riverkeeper protects and restores the Hudson River from source to sea and safeguards drinking water supplies through advocacy rooted in community partnerships, science, and law. After four years of slow growth in new membership and a lack of funding to fuel acquisition, Riverkeeper received a grant from Progressive Multiplier that allowed them to invest in digital advertising to yield new leads and donors.
While organization revenue continued to grow, Riverkeeper found they were raising more money from fewer people, pointing to an opportunity to grow their base. They anticipated digital advertising would have a stronger return on investment than mail. With the grant from Progressive Multiplier, Riverkeeper launched ads across Meta, Google, and AdRoll, testing which creative approaches resonated the most with audiences. The ads consisted of direct-to-donate and lead generation, with the latter entering a welcome series designed to convert them to donors.
Riverkeeper generated over 3,900 new leads through the grant, with ads on Meta performing the strongest. This progress nearly doubled their typical annual list growth. They also raised over $6,000 and gained 85 new members and over a dozen volunteers. Most significantly, due to the advertising and action under this project, the New York State Senate passed critical legislation protecting the Hudson River from radioactive wastewater discharge.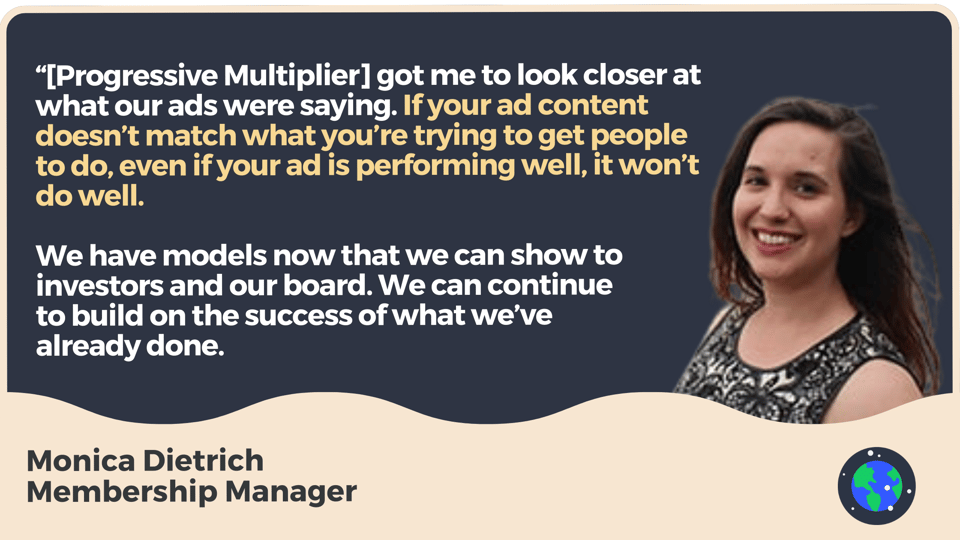 In addition, Riverkeeper gained key learnings around content that they will use to inform their future efforts by creating a consistent messaging arc from advertising through a welcome series.
Riverkeeper is a nonprofit environmental organization dedicated to the protection of the Hudson River and its tributaries, as well as the watersheds that provide New York City with its drinking water.