Multiplier Effect in Action with Metro IAF

Progressive Multiplier
Economic Liberation often hinges on finding the right formula, and once that formula clicks, it's worth replicating. That's a key component of the Multiplier Effect.
When the pandemic struck, VOICE (Virginians Organized for Interfaith Community Engagement), experienced challenges to growing its donor base. They adapted by transitioning to outdoor and virtual organizing, effectively engaging with 2,500 residents to address pressing issues in their communities.
VOICE used a grant from Progressive Multiplier to establish three regional peer-to-peer fundraising teams and expand their outreach. They allocated resources for individual donor fundraising training, expert consultant guidance, and county-specific online and offline fundraising materials.
Metro Industrial Areas Foundation, part of the nation's largest and longest-standing network of local faith and community-based organizations, saw VOICE's, a former affiliate, impressive 6:1 return on investment, and is now investing to replicate the rev gen success with its other affiliates.
Metro IAF secured an unprecedented $10M donation from a donor, a large portion of which is dedicated to support Metro IAF Affiliates. Leveraging this donation to ensure affiliates are positioned to raise ongoing independent revenue to support their work in the years to come, Metro IAF is working with Progressive Multiplier on a pilot with five of its affiliates. Metro IAF is making a $100,000 matching grant to each of the five affiliates for organizer recruitment and criminal justice reform expansion. Some grant funds are being released upfront to secure support for fundraising assistance and the balance will be released as local affiliates meet mutually agreed upon matching donations requirements for new donors.
Through their work with PM, local affiliates will raise $100,000 from new individual donors or increased gifts from existing donors. The majority of these gifts will come from recurring donors.
Meet the Affiliates:
One Wake

One Wake is a multi-ethnic, multi-issue group of religious congregations and non-profits with an aggregate membership totaling 50,000 households.
"Over 60% of ONE Wake's 2023 budget comes from membership dues and individual donations (the rest comes from general operating support from private foundations). This means that ONE Wake members truly OWN the organization; that our grassroots agenda reflects our local priorities and not outside interests; and that the organization is financially sustainable over the long term."
United Power
United Power is a non-partisan community organization of 40 religious congregations, not-for-profit groups, hospitals, health centers, and civic organizations to address pressing social issues through volunteer-led efforts and collaborative problem-solving.
Valley Interfaith Action
Valley Interfaith Action is a multi-issue, non-partisan organization uniting faith-based congregations and associations to build community connections, work with affected leaders, and address challenges collectively. Their strength comes from their diverse membership, enabling them to break down significant issues and partner with similar individuals to engage corporate and elected leaders in achieving shared goals.
"Having the majority of Valley Interfaith Action's budget generated through local donations allows us to pursue our work of building power unfettered by external control, but it also keeps us accountable to our member institutions and our local community."
Baltimoreans United in Leadership Development
BUILD is a non-partisan, interfaith organization committed to improving Baltimore by addressing housing, job opportunities, and community revitalization. They collaborate with member institutions, corporations, and foundations, emphasizing community empowerment.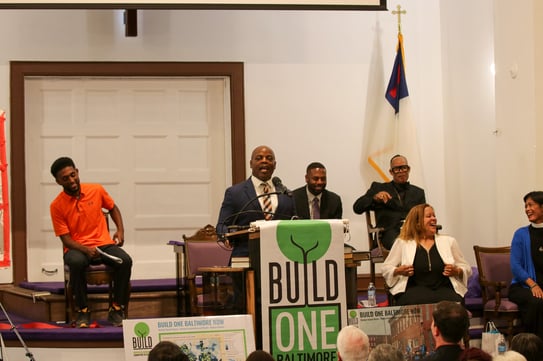 They have a 45-year history of impactful achievements, including combatting bank redlining, advocating for a living wage, and focusing on youth development and neighborhood revitalization.
"Independent revenue is crucial to the ongoing organizing efforts of BUILD and to its history of success. To be effective, we have to be accountable to our members about the issues they see as most important. We have to be able to act in big, courageous ways."
New Jersey Together
New Jersey Together is a multi-faith coalition encouraging people to identify local issues, connect, and drive creative change. Since 2016, they've expanded, leveraging over $1 billion in investments for housing, schools, and communities in New Jersey.